Internationalization at Home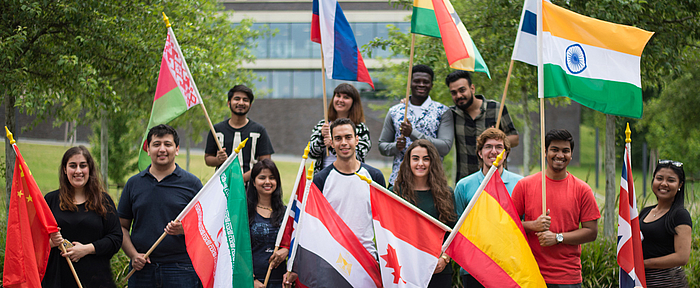 Hochschule Mittweida - University of Applied Sciences offers numerous possibilities to study internationally and to be internationally committed. Students are provided with diverse offers on the international campus, e.g. to prepare interculturally for a semester abroad or to help international students as a tutor with their successful integration at the university.
International guest lecturers and an international focus in all study programmes ensure an up-to-date global approach.
Languages connect
Foreign language skills are a must in today's world. Language skills are an essential tool especially for the future professional development. The IKKS – Language Institute of the university offers a wide selection of language courses which can also be certified.
Strangers become friends
Getting in touch with international students is not always easy within a busy study schedule. The diverse events organized by our Cosmo Club therefore offer a great opportunity for intercultural exchange e.g. during excursions, parties or as an individual tutor.
Tutor Programme
To make the first days in Mittweida as easy as possible Mittweida University offers international students the possibility to get an individual tutor. As a tutor students get the option to be internationally committed, gain intercultural competence and at the same time help international students with their first steps in Mittweida.
Tutors will e.g. help with the first orientation in Mittweida, with opening a bank account and with the registration process at the city hall.
Get certified!
The Certificate of Intercultural Competence connects the diverse offers of Internationalization @ home giving students the possibility to add an international element to their CV.
It is addressed to both Mittweida home students as well as international students and combines three main components, which students can complete in several ways.
The certificate enables intercultural learning directly on campus, which means intercultural competence can be gained "at home" thanks to the diverse certificate offers, also giving students unable to go abroad the chance to acquire an important key competency for successful interaction in a globalized economy and society.